Rehearsal is cancelled for February 11th. Rehearsal will resume a week from Sunday, on Feb 18.  
Hubble Concerto Competition Auditions will be held on Sunday Feb. 18th, 2018 at 1:30PM in the UF Music Building, Room 101.
Attention Seniors: Chris Sagabiel will be coming to rehearsals to have you sign the Senior Tablecloth and to have you fill out bios for the Spring Concert Program.
Spring Poster Contest is now accepting artwork entries. Deadline is March 11, 2018. For more information, click here.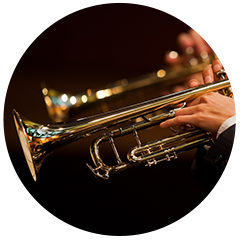 Welcome to the website of the Alachua County Youth Orchestra. The ACYO is currently the ONLY full orchestral experience for the youth of Alachua county. The orchestra has been in existence for over 40 years, providing free concerts for the residents of Alachua and the surrounding counties. The orchestra usually provides or participates in four concerts a year; Winter concert, Stop Children's Cancer concert, Spring concert, and the Meet the Orchestra/Fifth Grade concert. It may participate in other events as opportunities arise.
History Project
LEARN MORE
Oral History Project
Find out more about our Oral History Project